About Us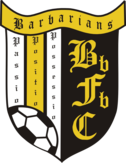 The Barbarian FC is the original futsal club of Western Pennsylvania. It provides opportunities to players and families who seek a fun and competitive learning environment. The Barbarian FC are an independent football club, where players come to develop their skill as people as well as players. Click here to learn more about The Barbarian FC.
---
Testimonials
Keith Tozer
Keith Tozer
Head Coach US Men's National Futsal team
Click for more Testimonials...