Just a reminder that there will not be FNF Pick up and Play on Friday August 2 and the final one for the summer of 2019 is August 9th. Thank you to all who have made it a huge success!
Feel free to contact us for available playing and training opportunities. Please keep an eye out for the Barbarian INITIATIVES as we prepare for the 2019-2020 futsal events.
---
About Us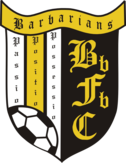 The Barbarian FC, providing opportunities to players and families who seek a fun and competitive learning environment, are an independent football club where players come to develop their skill as people as well as players. The Barbarian FC survives as the only original member club in West Penn Futsal's Prime League (2000) with our origins circa 1995. Futsal is the only indoor game sanctioned by FIFA. Click here to learn more about The Barbarian FC.
---
Testimonials
Keith Tozer
Keith Tozer
Head Coach US Men's National Futsal team
Click for more Testimonials...