Barbarian FC Initiative
To whomever it may concern:
The Barbarian FC plans to offer one final Initiative for outsiders to learn what Barbarian futsal is all about. Mark your calendars for Thursday, November 1 and Friday, November 2.
Come, learn for yourself why, if you are serious about your approach to football, the Barbarian FC is the place to develop the necessary skills and understanding to move your game forward.
While the Initiative is geared towards exhibiting our proven methods to the public in general, it has been our privilege to offer and retain players interested in their development within futsal. The Initiative, however is not a try out nor in our history have we ever held one!
If you would like to attend one or both sessions, please sign up at your earliest opportunity. These sessions will be limited to a maximum of 20 players. Registration for the planned events
will close Friday, October 26. We look forward to the opportunity to serve.
---
About Us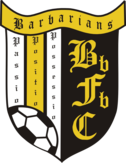 The Barbarian FC is the original futsal club of Western Pennsylvania. It provides opportunities to players and families who seek a fun and competitive learning environment. The Barbarian FC are an independent football club, where players come to develop their skill as people as well as players. Click here to learn more about The Barbarian FC.
---
Testimonials
Keith Tozer
Keith Tozer
Head Coach US Men's National Futsal team
Click for more Testimonials...