In an effort to give a greater exposure of futsal to the soccer community of Western PA the Barbarian FC are offering a series of initiatives to interested players. These initiatives are for players interested in futsal. The open house will be July 1, 15, August 5 and 30 at Pro Sports Monroeville.
Every player interested in attending must pre-register to be considered for inclusion by choosing at least onef the possible initiative dates on or before May 25th. For more information or inquiries contact manager@barbarianfutsal.com. These events are offered without charge or fees but all attendees must pre-register.
If you want to enroll in summer training as a guest member, please click here
About Us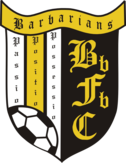 The Barbarian FC, providing opportunities to players and families who seek a fun and competitive learning environment, are an independent football club where players come to develop their skill as people as well as players. The Barbarian FC survives as the only original member club in West Penn Futsal's Prime League (2000) with our origins circa 1995. Futsal is the only indoor game sanctioned by FIFA. Click here to learn more about The Barbarian FC.
---
Testimonials
Keith Tozer
Keith Tozer
Head Coach US Men's National Futsal team
Click for more Testimonials...