To whomever it may concern:
In an effort to give a greater exposure of futsal to the soccer community of Western PA, the Barbarian FC are offering a series of initiatives to interested players. The next Open House will be April 26 and 28 at Pro Sports Monroeville.
Every player interested in attending must pre-register to be considered for inclusion by choosing their possible available initiative date(s) on or before April 21st. For more information or inquiries contact us. These events are offered without charge or fees but all attendees must pre-register.
Thank you
---
About Us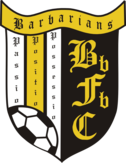 The Barbarian FC is the original futsal club of Western Pennsylvania. It provides opportunities to players and families who seek a fun and competitive learning environment. The Barbarian FC are an independent football club, where players come to develop their skill as people as well as players. Click here to learn more about The Barbarian FC.
---
Testimonials
Keith Tozer
Keith Tozer
Head Coach US Men's National Futsal team
Click for more Testimonials...