It's that time of year as we welcome all current and former members of the Barbarian FC home for the holidays and the SNS Especial, on Saturday evening, November 30 at Pro Sports Monroeville from 6:00 till 9:00.
Join us in tribute to the latest inductee of the PA West Hall of Fame, Coach Lucky Russell! This SNS Especial will be dedicated to Coach and feature the club wide Pickup and Play as we also prepare for the kickoff of our 2019 futsal season.
Happy Thanksgiving!
About Us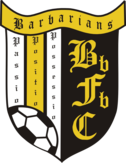 The Barbarian FC, providing opportunities to players and families who seek a fun and competitive learning environment, are an independent football club where players come to develop their skill as people as well as players. The Barbarian FC survives as the only original member club in West Penn Futsal's Prime League (2000) with our origins circa 1995. Futsal is the only indoor game sanctioned by FIFA. Click here to learn more about The Barbarian FC.
---
Testimonials
Keith Tozer
Keith Tozer
Head Coach US Men's National Futsal team
Click for more Testimonials...