The Barbarian FC proudly announce a series of Initiatives to give interested families an intuitive understanding of training with the Barbarians. This opportunity is given free of charge. Our Initiatives give a working knowledge in the 25 year evolution of the original Barbarian program, Technical Insight Personality and Speed (TIPS), from when we began training players in various venues throughout Western PA.
Interested?
Please sign up for each of the dates you desire. We will welcome you to at least one session based on availability. All current members who wish to participate, while welcome, must sign up to be considered. Our members committed participation and willingness to demonstrate the exercises contribute to our success and help maintain our standard.
Those in the general public unable to attend any of the Initiatives looking at the development and growth the Barbarian FC offer to its members please read and Contact Us for your unique experience where dedication to the individual player is an art still practiced.
---
About Us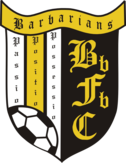 The Barbarian FC, providing opportunities to players and families who seek a fun and competitive learning environment, are an independent football club where players come to develop their skill as people as well as players. The Barbarian FC survives as the only original member club in West Penn Futsal's Prime League (2000) with our origins circa 1995. Futsal is the only indoor game sanctioned by FIFA. Click here to learn more about The Barbarian FC.
---
Testimonials
Keith Tozer
Keith Tozer
Head Coach US Men's National Futsal team
Click for more Testimonials...